When I found out September was resource month on Mothers of Daughters I immediately knew what I needed to share with you.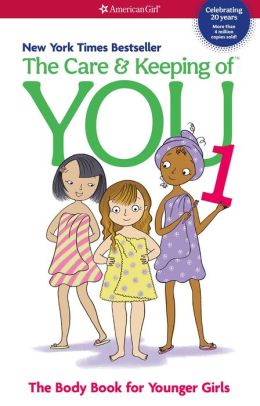 The Care & Keeping of You 1: The Body Book for Younger Girls was introduced to me by a good friend who has a daughter ahead of mine. It's an amazing resource for girls whose bodies are beginning to grow and change.
I know. Deep breath, mamas.
This American Girl book brilliantly introduces puberty through a marvelous mix of simple, non-threatening messages like the importance of a good night of sleep, why you need to brush your hair, and wearing sunscreen with "biggies" like picking a bra and getting your period.
Author Dannah Gresh states 40% of girls starting their periods have never heard about it from their own parents. This is a problem. If we can't even go to them with the most basic details of God's design how do we expect them to feel comfortable coming to us to discuss (and parent them through) temptations and life-changing relationship decisions?
I think much of our modern day struggle is the need to discuss these expected changes with girls who are not necessarily of age for the complete birds and bees chat. Breast buds and bras feel manageable. But, how do we introduce the more significant changes to developing girls who still play like children? Most girls are menstruating now at 12. Some as early as eight.
This book to the rescue.
The overarching concept is that our bodies are a work in progress that we need to care of. That sometimes puberty will feel awkward and other times cool but in all cases to talk to your parents because they've been there and want to be there for you. Gently, it makes the changes that could tether a girl's emotional health feel natural and good. And, big concepts like the period get a G-rated introduction as a "sign that your body is healthy and working properly" (p68).
My oldest and I made this a private mommy/daughter time beginning last spring. We'd sneak away and read aloud one or two sections (they're a few pages in length). The book made it easy for me to make concept introductions natural and the questions she asked afterwards provided me x-ray vision into her heart.
It is not a Christian book but I very much appreciate it's message in our Christian home because it continually reinforces talking to parents, that your body is private, to treat yourself well, and that value is found in your whole you – body, mind, heart, and spirit. Yes!
While the book is suggested for ages eight through ten, I do think it is critical for parents to carefully consider both their child's maturity and physical development when determining the appropriate time to share it within that two-year frame. I would also highly suggest that you read it with your girl. Even if it feels like a difficult topic your time translates as care and it ensures that your daughter will process the information correctly, bringing thoughts and questions to you rather than to peers or media sources who may not share your values.
Start the important conversations in your home so they can continue to grow there!